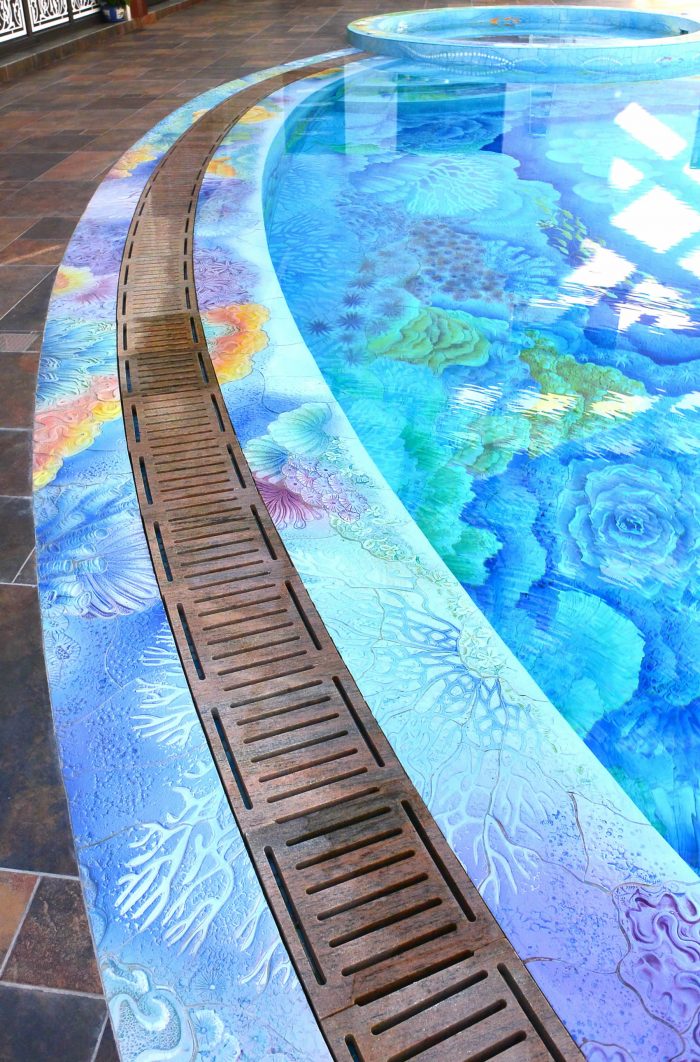 Like the frame on a stunning canvas, adding a border to a swimming pool design can complement and enhance the work of art it surrounds. Added to the many visual benefits, a border can provide a wonderful tactile experience on the edge of the water.
Fundamental to all Craig Bragdy swimming pool projects is the interplay between design and context. In several cases, the addition of a border (outside the water) has enhanced the relationship between the central design and its location, either by defining the shape of the pool or extending the theme of the design.
The exotic lagoon ceramic of one outdoor pool on a Cypriot mountainside was bordered by a beach design, an inviting terrain of golden sands and beautiful shells. The tiles were finished in a matt glaze, beautifully catching the light as the sun sets and making it a paradisical scene. A similar effect was achieved on an indoor swimming pool, once again with the swirling yellows and golds of the sandy shore contrasting with the blues and greens of the underwater scene.
Borders might form only a part of a pool's perimeter. The undulating blue and white fabric design of one client's indoor pool appeared to be spilling from the seating area all the way to the bottom of the water. The effect is an alluring link between the pool and the rest of the indoor space.
In each case, the handmade tiles used to create the borders are crafted with just the right amount of texture and relief to make the surface both slip-resistant and a delightful tactile experience underfoot, as any decking material should.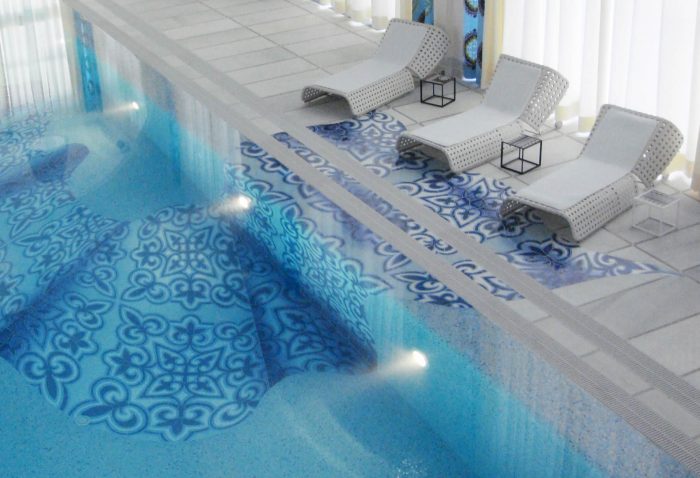 The production and installation of the ceramics also incorporate all the technical aspects of a pool's edge, in particular, fitting in and around drainage channels. For indoor and outdoor pools alike, the hardwearing nature of the ceramic means standard pool cleaning and longterm exposure to sunlight will not fade the spectacular colours.
Unique to Craig Bragdy, ceramic borders are an innovative and artful extension of spectacular swimming pool designs.