As with any Craig Bragdy Design project, the aesthetic is tailored to fit and complement the context.
Whether standing alone or connected to a larger swimming pool, a spa ceramic will be the focal point of the space. It requires a specific design process, taking into account the compact dimensions as well as the technological requirements of a spa.
Working closely with clients, it is possible to create any style. Projects have ranged from a flamboyant heart shape set beneath the shade of a fibreglass shell, to the drama of a great white shark revealing terrifying rows of sharp teeth as it circles a treasure chest.
Many clients have opted to recreate the idyllic underwater ecosystem of a coral reef, swaying in the warm water, bejewelled with finely crafted shells, mollusks and fish. More fantastical scenes of diamonds and pearls and even rainbows have provided the perfect theme for several other designs.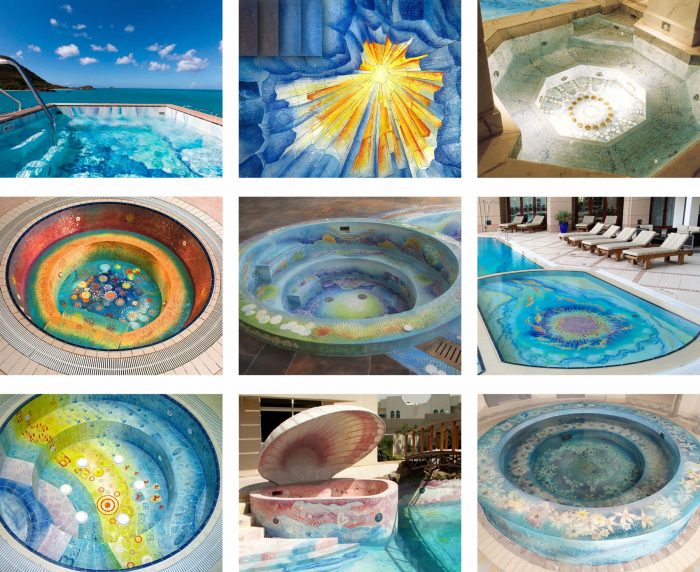 The texture of any design is carefully thought out so each tile is exquisite to touch while providing the necessary purchase for users to sit safely in the spa. Comfort, beauty and indulgence is the focus here.
Every design is also planned to work around the fittings and fixtures of a spa. Air jets, lights, inlets, outlets, drains and steps are all considered during the design phase and often worked into the design itself. The intricate job of installation is then carried out by a specialist team, who fit and frost-proof every tile.
The beauty and the uniqueness of each spa will be preserved for a long time to come, continuing and adding to this luxurious human tradition.
Several other details will be given careful thought before the ceramic is fitted. Where the handmade tiles meet different materials – a mosaic, for example – the interface between the two will be perfected. Drainage channels and grids will be cleanly and precisely fitted into the design – sometimes all but disappearing into the ceramic. If stools and seating are part of the swimming pool project, they will be treated and finished – again, chiming beautifully with the overall design.
It is only with this care for the finest details that a project can be successfully finished, making the completion of each ceramic design all the more rewarding for those involved in making it and, of course, for those who will use the pools.