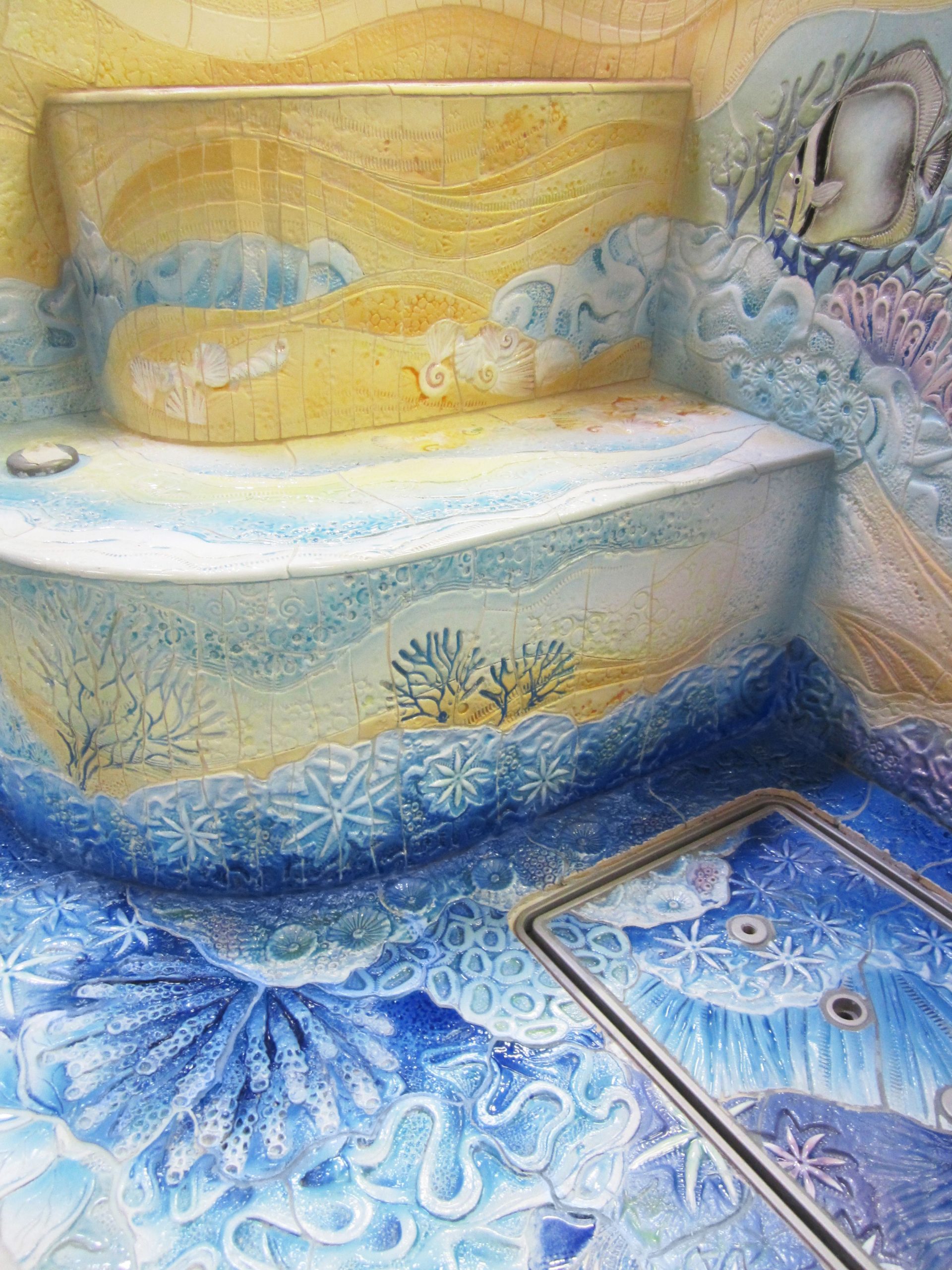 Adorning a swimming pool with a work of unique ceramic design is an inspiring artistic enterprise. An important part of achieving these spectacular visions comes from an intricate knowledge of and an enthusiasm for the fine details.
Turning a spark of imagination into a spectacular swimming pool ceramic comes not only from the design itself and not only from perfectly produced handmade tiles. The remarkable visual journey is only complete once the ceramic is fitted into the spatially and technically complex area of a swimming pool. Craig Bragdy's combination of meticulousness, technical skill and vast experience make this possible.
Common to most Craig Bragdy projects are the junctions between step treads and risers – the meeting point between horizontal and vertical surfaces. Whether this is the step of a swimming pool or the seating shelf of a spa, the degree of curvature between abutting edges is carefully chosen according to the overall design and the client's wishes.
This might be a single join, ranging from an elegant 'pencil round' to a larger curve. An even softer edge can be achieved using two straight-line junctions (one on the step tread, one on step riser). In either case, the finish is machine-honed and fully glazed, whether to provide seamless continuity or striking contrast in colour and texture.
Incorporating the technical fixtures of any swimming pool or spa into the completed ceramic design also requires a detailed and specialised approach. Finishing 'collars' (often in stainless steel) can be supplied to add definition to inlets and drains. Otherwise, a diamond-tipped core drill bit can be used to open a neat aperture to surround a protruding pipe end. Either method is elegant and will be determined by the client's preference.
Several other details will be given careful thought before the ceramic is fitted. Where the handmade tiles meet different materials – a mosaic, for example – the interface between the two will be perfected. Drainage channels and grids will be cleanly and precisely fitted into the design – sometimes all but disappearing into the ceramic. If stools and seating are part of the swimming pool project, they will be treated and finished – again, chiming beautifully with the overall design.
It is only with this care for the finest details that a project can be successfully finished, making the completion of each ceramic design all the more rewarding for those involved in making it and, of course, for those who will use the pools.

Warning: Use of undefined constant php - assumed 'php' (this will throw an Error in a future version of PHP) in /home/o25d0yan7v6t/public_html/cbdpools.com/wp-content/themes/html5blank-stable/single.php on line 22


Warning: Use of undefined constant php - assumed 'php' (this will throw an Error in a future version of PHP) in /home/o25d0yan7v6t/public_html/cbdpools.com/wp-content/themes/html5blank-stable/single.php on line 27